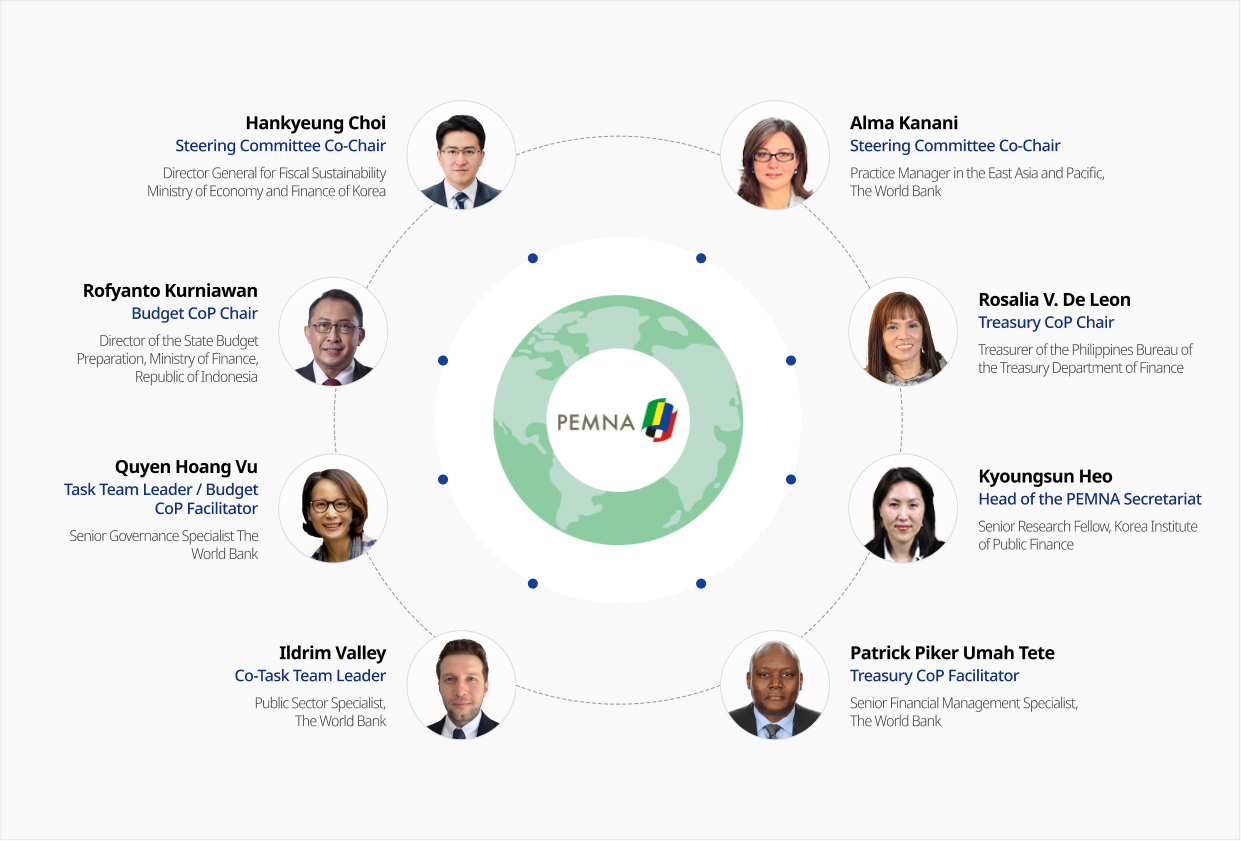 PEMNA Steering Committee
PEMNA Steering Committee (SC) is the principal decision-making body of the network. The SC is composed of representatives from each member country, CoP chairs, facilitators of each CoP, representatives from each development partner, and the Head of the Secretariat. The SC provides guidance on the policy, plans, and budget of PEMNA.
Community of Practice
At the heart of PEMNA are two communities of practice (CoP) for budget and treasury, composed of PFM practitioners from the 14 member countries. The two CoPs aim to provide a smaller group setting for practitioners to exchange knowledge and experience on specific, high-priority PFM reforms and lessons from the implementation through regular meetings.
CoP Leadership Team
The CoP Leadership Team (LT) is a facilitating body of the CoP. The LT is composed of a small number of CoP members who volunteer to represent the group. The members of the CoP LT meet regularly face-to-face or via videoconference to plan and prepare for each proposed CoP activity.
CoP Chair
CoP Chair is a chairperson of a CoP who is nominated by the CoP LT and approved by the SC. The CoP Chair represents the membership and its collective interest. The chairperson facilitates and leads CoP activities together with the CoP Facilitator and the LT.
CoP Facilitators
CoP Facilitators are PFM experts tasked with supporting and advising their assigned CoP in its visions, plans, budget, activities, and actual discussions. The CoP Facilitators, as part of the core operational team, are managed and appointed by the Task Team Leader.
Task Team Leader
The Task Team Leader (TTL) is an official representative of the World Bank responsible for administering the PEMNA budget in accordance with PEMNA objectives.
PEMNA Secretariat
The Secretariat provides the overall management and administrative support involved in building and sustaining the PEMNA community. It ensures that each PEMNA activity delivers desirable outcomes to the network as a whole. The PEMNA Secretariat is currently housed at the Korea Institute of Public Finance.